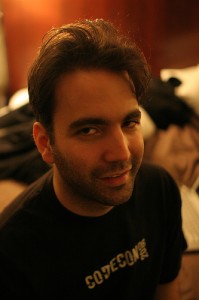 Like many bright Asperger people, Bram Cohen ventured out into the workplace thinking he would find challenging and rewarding opportunities that matched his intellectual abilities and gave him the opportunity to interact with those smart and rational like him. Delusion #1.
He arrived to find people did things inefficiently, wrong, and just plain got on his nerves. As an adult, he took jobs in the computer programming field, but got annoyed when people wouldn't listen to him and do things the right way. So he decided to start his own company, BitTorrent, a brainchild born from nine months of him developing a software program in his late twenties.
Thanks to Cohen's BitTorrent, people can exchange large amounts of information over the internet, such as video and software downloads. They've also pirated lots of movies and other stuff they really should be paying for, but Cohen never intended his software to be for this use.
"I couldn't anticipate the piracy. But I was very careful from the beginning to distance myself from it," he said in an interview with Business Week.
A woman he dated, who eventually became his wife, had worked with autistic children and suggested that he might have Asperger's. He did some considerable research on it, made a goal to improve his social skills, and learned to do all sorts of things neurotypicals do, such as reading expressions, making appropriate eye contact, and even…flirting. It's probably safe to say that the girlfriend-later-to-be-wife was much happier when Cohen's Asperger's hindered him when it came to displaying the last social ritual with other women.
Once he learned to demonstrate certain behaviors and saw himself as the Asperger pretending to act neurotypical, he said he "realized how out of it I had been my entire life." He makes sure he tells people up front he's different and why, before they start to make up their own, and possibly wrong, conclusions.
Go here if you're interested in watching a video interview with Bram Cohen.
Relevant Things Mentioned In Post:
Special Interests
Correcting
Photo: Bram Cohen by Jacob Appelbaum