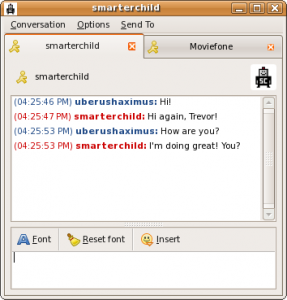 Image: Uberushaximus on Wikimedia Commons
You know that guy. Like many Asperger people, he shies away from oral communication and speaks his mind with the keyboard. He thinks texting should be a recognized foreign language. He might text his wife when she's cooking in the kitchen at home when he's away for long distances such as the bedroom upstairs. He will engage in a 20 minute back and forth email conversation when it could have been done face to face in five. Especially considering his office is right next door to yours. So close, you can even hear him typing his next response.
Asperger people are notoriously known for their preference to communicate through mediums other than saying it to your face. You have to understand that sometimes the regular mode that neurotypicals use to communicate are problematic for the Aspie as there are distressing phenomenas such as facial expressions to be deciphered and double entendres to catch onto. Not to mention the fact that neurotypicals can be demanding and require the Aspie to look them in the eye, (although get irate when you stare at them too hard and long) and gasp…even smile. Ludicrous!
To circumvent this problem, Asperger people use various electronic communication to get the conversation going. And remaining.
Online dating was probably invented by an Aspie.
The romantic partner of an Asperger might find themselves frequently engaged in hot, passionate, amorous activity with the Aspie wearing nothing but his wireless mouse. After protesting that he only talks to her on Yahoo Instant Messenger when he wants to talk dirty for hours, he may defensively say he is performing his "manly duties" and couples should be romantic regularly. After background checks reveal no wife, and stalking, or uh, research reveals no other female in the picture, she may gently remind him of the fact that since they've been dating, they rarely have any face to face encounters, although countless hours of instant messaging. It's hard to stay romantic when you never see a person, you know.
Not to fear, as this is no barrier the relationship cannot overcome. That's why web cams were invented.