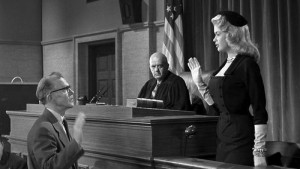 Image: swanksalot on Flickr
Asperger people have an innate drive to be honest and truthful. This goes along with their strong sense of morality. Honesty can be a wonderful trait to have if your best friend or partner is an Asperger. And it can also makes things difficult.
Gas is expensive enough. There's nothing worst than your Asperger partner insisting on driving 50 miles back to the hotel to return an unused bar of soap accidentally taken. Ditto for the neat looking pen with the logo. It all has to stay in Vegas, darn it.
The Asperger child may be a parent's dream come true, as he will always tell on himself after being naughty. She soon may be looking for other friends after deciding it really is best to let the teacher know who really did prank her house at 3:00 in the morning after hearing a lecture (albeit, in between yawning) from the teacher on how it's important to speak up and do the right thing.
Preying can be a problem, as Aspies freely give any information asked for, never believing anyone would use it against them or to harm them. A hard lesson can be learned from finding out you're idea has been taken-word for word, step by step, for a class project to your entire list of clients disappearing and going to that "other company," a "friend" happened to start after innocently offering to proofread business documents or install important updates to your software.
The Asperger employee may or may not be the "one" of the month when he blows the whistle hard enough for everyone in the overseas affiliate company to hear when the location of the missing files is revealed to be thrown in the trash bin that suddenly needs to be emptied ASAP.
Due to an Asperger's strong urge to be truthful, it's important to plan ahead in terms of what profession to go into. While integrity is valued by most employers, there will be some jobs the Asperger person might have to look over.
The following are professions that an Asperger could consider which rewards him or her for honesty
Auditing
Clergy
Investigator
On the contrary, some professions in which the Asperger's honesty might cause difficulties
Lawyer
Corporate Manager
Politician
Lawyer
Lawyer for the business where the Corporate Manager works
Lawyer for the politician who got caught doing something with the Corporate Manager after hours…