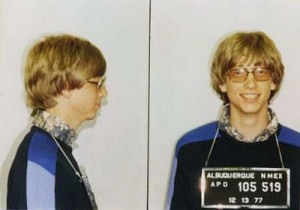 When discussing Asperger people, some have used Bill Gates to describe individuals with the traits. Although the author of this post does not know if Gates is an Aspie or not, his nerdy brilliance, computer knowledge and skills, and intense focus in a particular "special interest" that has proved quite profitable certainly make him a candidate.
Aspergers across the universe know this and will use this suggestion to honor and defend their "aspergerness" at any given time when they feel "Asperger" is being used in a derogatory way. Many thoroughly enjoy referring to his arrest in the 70s (mugshot pictured above), as this icon is the perfect symbol which defines a genius who went against the grain. Don't ever remind them that Gates was speeding and driving without a license, as this would interfere with their idolatry and cause great distress knowing their hero was breaking rules, not following protocol, and possibly being immoral depending on the degree of R.E.P. they possess. It is much  better for their psyche to think he was arrested for something like protesting about mistreatment of some group.
"Bill Gates probably has Asperger's."
"Asperger's is good. Isolated focus are what made Bill Gates a zigazillionaire."
"Asperger's is a gift. Without it, we wouldn't have people like Bill Gates."
You see the point by now.
Asperger traits, however, can be both good and bad, and many Aspies have started to drop his name to defend their negative "Aspergerties."
"Why can't I grab and adjust myself at the dinner party? It's part of my Aspergerness and I'm sure Bill Gates would grab and scratch himself at any dinner party if he felt the urge."
"Why help my wife put up groceries? If she knows how to buy them, she ought to know how to put them up. I've got a website to design. Would Bill help Melinda put up the groceries?"
Fanatic followers of Bill Gates name dropping take on the WWBG motto: What would Bill Gates do? It's quite predictable that Bill Gates would do the opposite of what the Asperger is trying to avoid doing.
Most Bill Gates name droppers are computer geniuses (albeit self-professed), but the profession of followers can vary. Some will drop his name even though they think "Vista" is a vocabulary word from Spanish Level 1 and "XP" is a dress size you wear for a month after Holiday gluttonous eating.