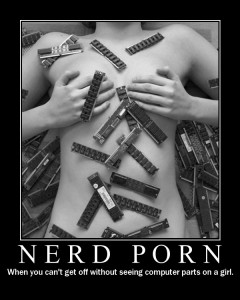 In some instances, it seems the Asperger male (or female for that matter), is really no different from the neurotypical after all. The interest in porn is a perfect example. But the Asperger's interest is not just about getting to rate the boobs of the day. The Asperger will use porn for academic purposes or to obsess with a particular body part that may be a special interest. If there were more doctorate programs in pornography, we'd have more Kinseys than we'd know what to do with. As the Asperger studies porn, he chooses to major in a particular area and ask such deep questions as,"How could a woman have such ripped abs?" if he is into muscular/bodybuilder/he-she like ladies. Some Aspies mistakenly think they can learn about relationships from porn, but soon realize there is nothing further from the truth. How on earth can they get to know each other? There's never any talking going on in these things.
An HBO movie might incite statements from the neurotypical such as, "No way, man! No one has a penis that big," or "How would you make a sex toy that big anyway?" This is where the Asperger, armed with all the information he has obtained from studying "101 Factos about sex toys", comes in to rescue the undereducated and horny neurotypical. "The sex toys are made from molds of an actual penis. There is a clay mix you add water to and stir. It is similar to making dental casts. You can even order them online and mix them in your own kitchen with a regular bowl and spoon."
At this point in the conversation, the neurotypical men mentally note: Dude, never eat at this guy's house again!
"Once the mix is complete," the Asperger continues, "you place the erect penis in the clay, allow it to cool, remove your penis, pour liquid into the mold, and ta da! You have created a dildo."
The neurotypical men are having an extreme WTF moment now, probably due to both the Asperger's explanation and the amount of alcohol consumed. This is obviously more than they signed up for when the rented Vicky Vixen. The insecure, jealous, and paranoid neurotypical will start to wonder and be convinced that the only way the Asperger could possibly know all this information is if he is the model on which all sex toys are crafted from. To this speculation, the Asperger will decide that some rumors are best left undenied.
Image: afflsports