Written by SAPL on Wednesday, July 30th, 2008 in Careers.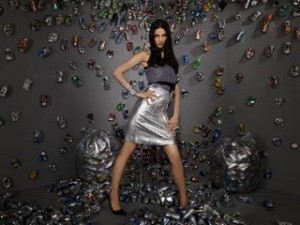 Freddy Reshew/Pottle Productions
Heather Kuzmich is one well-known Aspie who many consider to be of importance in the culture. She was a contestant on America's Next Top Model who made it to the final 5 on the Cycle 9 series last year.
Kuzmich is appreciated, revered, and adored by Aspergers for several reasons. One, she brought Aspies to the limelight on a national television show watched by many neurotypicals who may not have been aware of Aspergers before. She also showed that women and girls too are indeed Aspies and shattered some stereotypes that it's just a male thing. Because of this, possibly more gals will realize they are Aspies or stop covering up their Aspie traits just because they can do it better than dudes. Clinicians might wise up and recognize girl Aspies as well, but as any Asperger who has dealt with those types of neurotypicals knows…some dull pencils in the box are harder to sharpen than others.
She came across as intelligent, articulate, and well-adjusted.
She also had a great pair of legs.
And what fantasies both neurotypical and Aspie men held to procreate with her and produce their very own Aspie mini-me, dominating and taking over the world with their abilities to talk for hours about horses, engineering and IT skills,  logic and analytical superiority, and hot pairs of legs.
Although her tenure on America's next top model didn't result in a victory, she gained fame, respect, other modeling opportunities, and proved she and other Aspies, not only can have hot legs, but can compete with any regularly wired individual.